This post contains affiliate links. If you click on a link and choose to make a purchase, I will receive a commission at no additional cost to you. See our affiliate disclosure page for more information.
Right now, we're all trying to do our bit to save the planet. But it's not easy when you're parenting a curious child who needs safe, constructive stimulation for his development. Fortunately, the market for high-quality wooden toys has exploded in the last five years and, now, there's more choice than ever when it comes to eco-friendly kids' products.
Even if eco-friendly living isn't a priority for your family, there are lots of reasons to choose wooden children's toys this festive season. They contain fewer toxins than plastic toys. They also tend to be a lot more durable.
There's a reason classic train sets, dollhouses, and other wooden items regularly turn up on antique shows; they're built to last for generations and, in some cases, end up being given to a child's sons and daughters after they're grown.
Not convinced yet? Let's dig a little deeper and find out why wooden toys for toddlers are a wonderful choice this Christmas.
What Are Some Advantages of Wooden Toys for Toddlers?
Eco-friendly
Made from renewable materials and can be safely recycled. Uses less paint and contains fewer toxins (and no microplastics).
Encourages development
Classic wooden toys are associated with puzzles and motor skills activities like building and manipulating blocks and/or using simple tools. Encourages curiosity, experimentation, and imagination.
Supports a calm atmosphere
Studies have shown exposure to natural materials like wood reduces overstimulation and the negative behaviors often triggered by loud colors, flashing lights, and repetitive noises.
Super durable
Much less brittle and much less prone to cracks and chips than plastic products. Fewer parts mean fewer opportunities for breaks. Even when scuffed and weathered, most wooden toys remain usable.
Promotes creative play
A lack of sound means children have to use their imagination and are, thus, more likely to engage in creative 'world building' behaviors both alone and with friends.
How to Choose the Best Wooden Toys for Baby and Older Children
Wooden toys are considered very safe for children. However, it's still important to consider the age of the user and how they're likely to handle the product. Baby toys, for example, are undoubtedly going to end up in the mouth so they must be made from a non-splintering wood like hard maple rather than a softwood like pine or cedar.
Here are some more tips on what to look out for and how to choose:
Wood Varieties
Hardwood toys (birch, balsa, hickory, maple, teak, oak, and walnut) tend to cost more than softwood toys but they're even more durable and regularly last for generations. This type of wood is strong, high density, and splinter resistant. Hardwoods are also hypoallergenic which means they're suitable for the small percentage of children who have adverse reactions to wooden materials.
Rubberwood is produced in Asia and South America from rubber trees. It's surprisingly eco-friendly because these trees get cut down only after they've stopped producing latex sap and the majority are replanted. The downside is that this pushes the price of rubberwood products up. There are also issues with some 'ethical' companies being dishonest about the way their rubberwood is handled and processed so be conscious of what you're buying and where you're getting it from.
Softwood toys (cedar, douglas fir, spruce, redwood, and pine) are less expensive than hardwood toys but they're also more prone to splintering. They're still very durable but best saved for older children who have moved out of the teething stage.
Composite wood is the most affordable option for children's toys but these materials have disadvantages. They're not as durable as hard or softwood varieties and it's harder to know exactly what types of chemicals and adhesives they include. This doesn't mean all composite wood toys are unsafe for kids, it just means you should take extra care when shopping or consider spending a little more on a more natural, harder-wearing walnut or maple toy.
Paints and Finishes
It can be a little harder to know what types of paints and finishes are used on a wooden toy because they're easier to conceal than wood variety. Our advice is to read product descriptions carefully but exercise a healthy degree of skepticism at the same time. Unfortunately, there are examples of toy companies saying one thing (product contains no toxins) and doing another (product contains lead paint). So don't be afraid to ask your questions.
Safe finishes include beeswax, olive oil, walnut oil or any other natural substance provided a child has no allergies to them.
Safe paints include water-based, plant-based, and milk-based paints (yes, that's a thing). Just make sure, again, that your child isn't allergic to any of these substances.
If you're very unsure and you don't know whether to hand your child a particular wooden toy, you can nibble, sniff and/or lick it as a last resort. You may not be able to tell exactly what the materials are but you'll know if they taste natural or synthetic.
Best Wooden Toys for Babies
Ages 2+
These beautiful ABC Blocks from Uncle Goose include 28 wooden blocks with painted letters designed for alphabet-based learning.
Some of the blocks also contain numbers for basic numeracy learning as well. Encourage your toddler to make words or just stack and topple these super durable blocks.
Advantages
Painted with numbers, letters, AND animals
Encourages numeracy and literacy learning
Can get replacement blocks if lost or broken
Disadvantages
Needs to be cleaned with wood-friendly products
Not suitable for teething toddlers (softwood)
Ages 0+
So, you can't know if the baby will grow up to be a scientist just yet but watching him gnaw on Manhattan's molecule-shaped Skwish Rattle will delight you anyway.
It's among the best wooden toys for babies because it's dynamic (the beads slide and plink together), gently colorful, and strong enough to yank, smush, pull, and grab.
Advantages
Safe for teething babies (non-splintering)
Flexible links are easy for babies to grip
Great for eye focus and grip development
Disadvantages
Limited use/not multi-faceted
Too simple for toddlers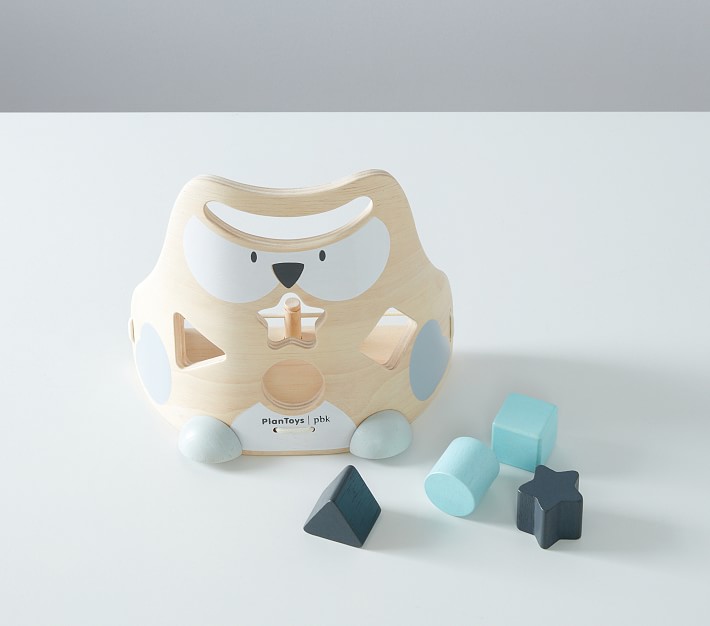 Ages 1+
If you're looking for wooden toys for a 1-year-old, consider the super adorable Plan Toys Owl Sorter.
It's designed for shape-based play so comes with four colored blocks and an owl-shaped container with holes in the front.
A user gets to grips with the wooden shapes by handling and pushing them through the corresponding holes.
Advantages
No lids or doors (easy to retrieve the blocks)
Beautifully painted animal design
Encourages hand-eye coordination
Disadvantages
A little smaller than it appears
Only four-block shapes included
Ages 2+
The Begin Again Gear Stacker is one of our favorite wooden toys for older toddlers.
While it's safe for children under two years to handle – no choking hazards – it's quite a sophisticated learning tool so would better suit a child with good grip and dexterity.
The goal is to fit all the stackable gears together, in the right arrangement, so they lay flat like a puzzle.
Advantages
Fantastic for eye focus/spatial awareness
Bilingual (printed with Spanish, French, and German)
Comes with a neat wooden box (for storage)
Disadvantages
It Maybe too difficult for kids under 3
Gears can be tricky for small hands to separate
Ages 0+
This simple wooden push toy will delight babies and young toddlers who are still too small for puzzle games. It is beautifully crafted with completely round (no sharp edges) and polished wheels and a graspable body.
Advantages
Made from all-natural materials
Hole in the body for easy gripping/carrying
Can be engraved with your child's name
Disadvantages
Not stimulating enough for older toddlers
Requires baby to have some motion skills
Ages 2+
Melissa and Doug are one of the most popular wooden toy brands and its gorgeous Stacking Train Toddler Toy makes it easy to see why.
With three linkable (or standalone) carriages and various stackable shapes to play with, children can choose between constructing different shaped carriages, choo-chooing around the living room with a full train, or playing with each carriage individually.
Advantages
Highly versatile (3-in-1 play)
Hones fine motor skills
Extremely durable wood
Disadvantages
It May be too difficult for younger toddlers
No storage case for pieces (easy to lose)
Ages 18+ months
When it comes to finding high-quality wood toys for a one-year-old, you can't go wrong with Tender Leaf. The brand's impeccably designed Baby Block Walker is sleek, sturdy, and minimalistic in its aesthetic.
It comes with a generous 29 garden-themed blocks that can be pushed around inside the basket.
All a toddler needs to do is stack their blocks and use the walker for support as they roam around the house or yard.
Advantages
Helps to develop walking stability
Comes with a walker AND 29 play blocks
Made from certified rubberwood (sustainable)
Disadvantages
Some sharp/pointy edges
User must have standing skills
Frequently Asked Questions about Wooden Toys for Babies
Whether you're hoping to buy wooden toys for a 6-month-old or a two-year-old, there are important things to consider before you make a purchase. So we've put together some of the most common questions (and answers) parents want to know about wood toys.
Q – Are wooden toys safe for babies?
A – Generally speaking, yes. There should be no nasty toxins or chemicals in high-quality wooden toys that can harm babies. However, as with any new toy, you do need to assess suitability and age appropriateness. Babies should never be given toys with sharp points, choking hazards, or finger traps.
When shopping for a baby or young toddler who's still in the teething stage, always buy hardwood toys. They're splinter resistant, unlike softwoods which do not stand up as well to gnawing and biting.
Q – Are wooden toys a more eco-friendly choice than regular plastic toys?
A – On the whole, yes. But it depends on where you buy the wooden toys from, what type of materials are being used and how committed the brand and/or manufacturer is to sustainability. Wood is renewable so, by its very nature, it's more eco-friendly than plastic which isn't biodegradable.
However, it's up to parents to be conscientious consumers who are willing to spend a little more time and money on a truly exceptional product. As with all consumer products, there are many great brands and some others that require more skepticism.
Q – What are Montessori toys and are they always wooden?
A – Montessori is primarily a system of non-traditional education (with a strong focus on the natural world) but the Montessori brand also makes beautiful wooden children's toys.
You may have heard of these toys and wondered what they do and whether to spend your money on them.
They're extremely high-quality though some parents consider them to be too expensive when compared with similar toys from less well-known brands. As always, it's up to you to decide.
Q – The wooden toy I just bought smells funny. What is this and is it safe to give to my baby?
A – If you've bought a wooden toy from a reputable brand with a high sustainability rating, unusual odors are likely to have a simple explanation.
For instance, recently manufactured products may retain a slight odor of whichever natural oil has been used for sealing and waterproofing. This should be easy to identify as a more natural smell than something artificial such as an undesirable plastic or chemical.
If you're unsure and concerned, get in touch with the manufacturer to ask directly.
Q – What is the best way to clean a wooden toy to ensure it lasts for as long as possible?
A – Never soak or fully immerse wooden toys in the water. Always use a moist cloth to wipe away any dirt or grime.
Wood is porous so dunking it in water could cause it to swell and become unusable. For stubborn stains, use dish soap, apple cider vinegar, or a gentle multi-purpose cleaner.
It is safe to air-dry wood toys but doesn't leave them in direct sunlight for too long. While the sunshine is great for killing off bacteria, too much exposure can fade a toy's colors and/or weaken the wood.
Conclusion
There are many compelling reasons to buy wooden toys for your children this year and eco-friendly living is just one of them.
Their popularity is growing fast because parents are waking up to the benefits of investing in toys that are strong, wear-resistant, and capable of withstanding years of use. Perhaps it's time you said goodbye to short-lived plastic toys and embraced the wooden revolution.
Amazon and the Amazon logo are trademarks of Amazon.com, Inc, or its affiliates.